Halloween Wagon, Green Goblin, Bill and Ted featured at Flashback Weekend
Photo: Flashback Weekend
If you're like myself and excited about (finally!) seeing Bill and Ted back on the big screen, it's cool to see Alex Winter will be a guest at this year's convention.
Love this gify of Bill S Preston Esquire
Bonus is that our friends at HSPPA will be showcasing some items from Bogus Adventure – Excellent!! Air Guitar
This year a new Auto Horror Museum has been introduced and that will feature some Killer rides.
Maximum Overdrive was super fun and game defying in the movie world of horror. Very excited to see the Goblin Head will be there to greet visitors.
We featured the Goblin and his creator Tim Shockey in a previous issue of the magazine.
As someone who is familiar with fiberglass, this re-creation is pretty amaz.
Another beautiful machine making an appearance is the Famous Femme Fetale – Christine. Seeing her in person, can understand why anyone would become a sucker to her evil ways
and of course should you refuse: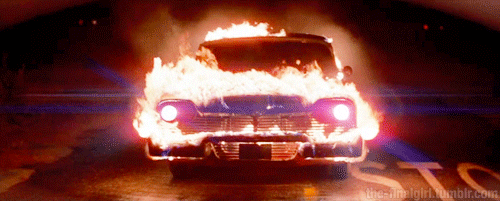 A fun experience for Halloween fans will be the original wagon from the original movie. We will also see the unveiling of a 71 Cuda Phantasm II replica. Looks pretty sweet.
Flashback is held the first weekend in August in Rosemont. This year at The Hyatt Regency O'Hare. Which promises more room, and we hope additional events and parties.
Additional celebrity guests include Nick Castle and Tobin Bell, with more to be announced.
If you are doing the show – you should know, they sell out of photo ops quick.
Want more info?
http://flashbackweekend.com/